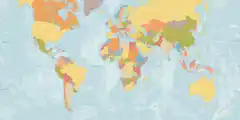 Project World Languages
Proofreaders wanted for German, English and 11 more languages!
I would like to provide trabscripts of the spoken German and English text for all videos. This opens up some wonderful possibilities:
People can watch videos and at the same time read the spoken text as subtitles in the video.

With the original transcript as a base, good quality automatic translation into many other languages is possible. With such subtitles in many languages, my videos will be accessible to many more people around the world.

The text can also be published on the website for browsing in all languages.
For this project I am looking for contributors:
Proofreaders for German and English transcripts
Each automatically generated transcript of the German and English videos must be thoroughly read and corrected. For this I am looking for proofreaders who support me.
The time needed to proofread a transcript is about twice the video running time. A one-hour video requires about 2 hours.

Other than a computer, no other tools are necessary.

Ich suche Hilfe sowohl für die deutschen als auch für die englischen Transkripte.

Participation is completely flexible. However, once a task is accepted, it should be completed quickly so that the video can be published.
Do you feel like it? Write to me, I'm happy!
Korrektoren für Übersetzungen
I am just starting to translate my website and all transcripts into several more languages. For this I use automatic translations, which are quite good, but still need sensitive post-editing. For this, I am looking for proofreaders who feel at home with one of the following languages:
French
Italian
Portuguese
Spanish
Dutch
Greek
Hindi
Chinese
Russian
Afrikaans
Suomi (finnish)
Participation is completely flexible, you can take over a task when you have time.
Do you feel like it? Write to me, I am very happy about help!